Celebrate Summer with an Anti–Inflammatory Cookout
May 30, 2019
/
/
Comments Off

on Celebrate Summer with an Anti–Inflammatory Cookout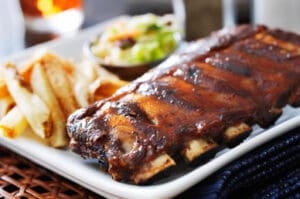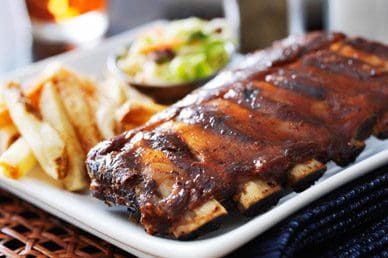 Barbeque in the backyard is not only easy – it's delicious! It's also a perfect anti-inflammatory meal.
Brush up on anti-inflammatory eating tips for summer and snag our meal plan for your next picnic or pool party
Carefree summer days call for easy, fresh meals. No hassles, no complicated recipes, and no big prep. Just grilled goodness eaten outdoors.
Even if you're new to our blog, you know that our kitchen is all about anti-inflammatory eating, which makes our BBQ meal plan the perfect guide for easy entertaining on weekends, yet simple enough for a weeknight dinner and days of great leftovers.
What's the big deal about anti-inflammatory eating?
The short answer is that it simply makes you feel better.
The longer answer is that it combats the harmful effects of chronic inflammation, which has been linked to all major health problems including cancer, heart disease, diabetes, arthritis, depression, and Alzheimer's.
One of the most powerful tools to combat inflammation is available at your grocery store without a prescription; It's food! Choose the right anti-inflammatory foods to reduce your risk of illness. Consistently eat the wrong ones, and you could be accelerating the inflammatory disease process.
Summer is a particularly easy time to adopt an anti-inflammatory diet – there's produce everywhere! An abundance of veggies isn't the only way to fight inflammation, so start by eliminating the bad guys.
Eliminate foods known to cause inflammation:
Refined carbohydrates, such as white bread and pastries
Fried foods
Soda and sugar-sweetened beverages
Red meat
Processed meat, like hot dogs
Margarine, shortening, and lard
Enrich your diet with ones that reduce inflammation:
Tomatoes
Leafy greens like spinach, kale, and collards
Nuts like almonds and walnuts
Fatty fish like salmon, mackerel, and tuna
Fruit, particularly strawberries, blueberries, cherries, and oranges
Olive oil
If a plate full of summer BBQ and sides sounds good just about now, then use our meal plan to stay on the healthy side of the street. And be prepared for a little DIY, as pre-made BBQ sauces and salads are often loaded with refined sugar and carbs and are not a good substitute in this meal.
Chef Beau's BBQ Menu
Click open for recipe / ingredients
Grilled Turmeric Chicken (or Tofu)
Combine turmeric, lime juice, extra virgin olive oil, crushed garlic, paprika, coriander, sea salt, freshly ground black pepper and a few pinches of coconut palm sugar in a large zip top bag. Add your protein and marinate for several hours before grilling.
Tex-Mex Wild Rice Salad
Combine equal parts of rinsed and drained canned black beans, fresh or frozen organic corn and cooked and cooled wild rice. Mix in chopped mango, chopped tomatoes, chopped cilantro, chopped red onion, cumin, lime juice, sea salt and extra virgin olive oil, to taste.
Tomato Salad
Combine sliced tomato wedges with thinly sliced onions, chopped basil and diced garlic. Dress with olive oil and balsamic vinegar and season to taste.
Grilled Corn or Asparagus
Lightly brush with olive oil before grilling, then dress with a squeeze of fresh lemon juice before serving.
Sliced Watermelon
Clean BBQ Sauce
15 ounces organic tomato sauce
1/4 cup high-quality balsamic vinegar
2 tsp Dijon mustard
1/3 cup raw honey
1/2 cup water
2 T pure maple syrup, or unsulphured molasses
1 T apple cider vinegar
1 T organic tomato paste
1 t sea salt
1/2 t onion powder
1/2 t garlic powder
2 t smoked paprika
1/2 t ground black or white pepper
Combine in saucepan and bring to a simmer, whisking occasionally, for 30 minutes. Cool and store in the refrigerator. Makes 2 cups
For more anti-inflammatory meals, browse our current menu for home delivery and order online. Or, if you're hosting a huge crowd, let Chef Beau's cater your BBQ for you!
Coming up next month: Clean snacks – perfect for tailgating and football parties
Share This Story, Choose Your Platform!